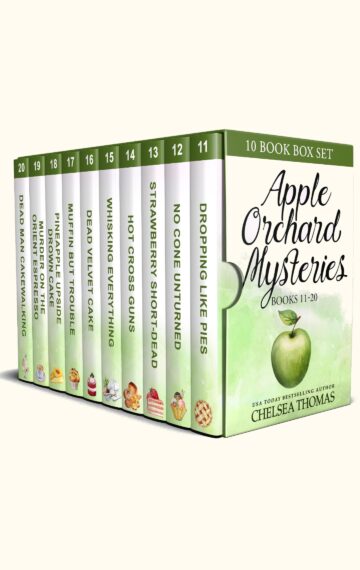 $9.99
Buy Now
Read A Sample
See The Reviews
See The Full Series
Available in:

Kindle, Kindle Unlimited

Pages:

2335

Published:

September 22, 2023
"Read these cozy mysteries in any order, but save Book 20 for the very end. There is such a satisfying conclusion here. As soon as I finished, I started over at Book 1."
"This second big boxed set in the Apple Orchard Mysteries was even better than the first. It's got heartbreak, mystery, and intrigue. And it's SO satisfying to see Chelsea live her best life despite her break-up. Read it now."
When Chelsea Thomas returned to her gorgeous small-town after getting dumped, she expected a great many things…
…getting caught up in a dangerous murder mystery wasn't one of them.
Within a couple days of returning to the family orchard, Chelsea is accused of murder and told not to leave town. Luckily, she's staying with Miss May — a former big city prosecutor — which means she's got someone to help her through this. When Miss May recruits her bottle-blonde best friend, Teeny, the trio begin their hunt for the killer… all the while baking the best apple pies in the state.
But one murder leads to another and another. The ladies are constantly on the run from bad guys. They're always doing battle with the inept police force. And they're trying, and often failing, to keep their love lives moving forward at the same time.
Read this thrilling adventure and nine more full-length cozies as a smart young woman heals from heartbreak and uncovers the person she was always meant to be.
This boxed set contains the following titles:
Dropping Like Pies
No Cone Unturned
Strawberry Short-dead
Hot Cross Guns
Whisking Everything
Dead Velvet Cake
Muffin But Trouble
Pineapple Upside Drown Cake
Murder on the Orient Espresso
Dead Man Cakewalking
Praise for the Apple Orchard Cozy Mystery Series:
"Chelsea Thomas books are delightful on every page. The characters are funny, but believable, and I often stay up past my bed time to find out what happens next."
"Each book is better than the last. I was so disappointed when I finished this box set. I want more!"
"It is SO satisfying to watch the main character in these cozies growing into a strong young woman. Take that, Evil Ex-boyfriend! These books are a must-read for all cozy mystery fans."
"These culinary cozies exceeded my expectations. The characters grow and change, the mysteries have good twists, and the books are packed with the most delicious sounding food!"