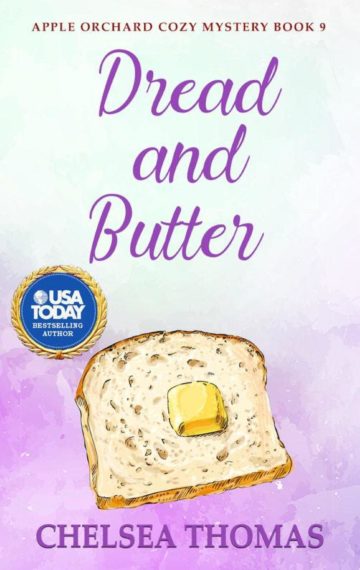 $5.99
Buy Now
Read A Sample
See The Reviews
See The Full Series
Available in:

Kindle, Kindle Unlimited, Print

Pages:

258

Published:

August 8, 2020
Fresh bread. Worth dying for.

"This series has it all, everything I want in a story and series…humor, suspense and quirky characters. It's one of my all-time favorite series."

Bread as a murder weapon…

…it's the most atrocious thing Chelsea has ever heard. But in this case, Miss May's delicious sour dough loaf is used for evil rather than good. So the murder weapon points back to our favorite amateur sleuth, which means Chelsea and Miss May need to solve this murder as fast as possible.

Good detectives follow every clue.

This time, those clues include a mysterious note, a fallen toupee and a literal trail of bread crumbs. But will Miss May and Chelsea be able to find the killer while the case is still fresh? Or will the clues get so stale they're too tough to chew?

If the girls don't solve the murder, the apple orchard could suffer, and years of hard work might go out the door. Chelsea has just started to move on from heart break… She can't take losing the farm now, just when life is starting to settle into a rhythm.

So the crime must be solved… Before the dough rises.

You'll love this cozy because everyone loves cute mysteries that keep you turning the pages.

Get it now.