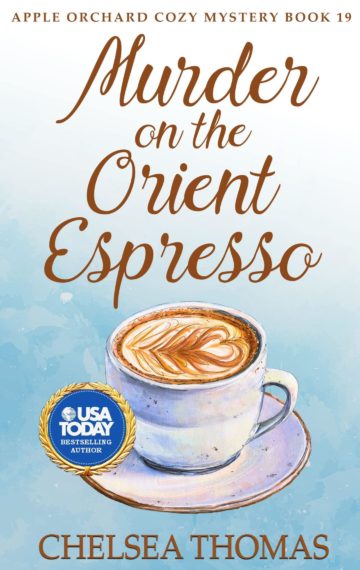 $5.99
Buy Now
See The Reviews
See The Full Series
Available in:

Kindle, Kindle Unlimited

Published:

July 31, 2023
Amazon and USA Today Best Seller in Cozy Mysteries
**"I curled up with this cozy and a bowl of popcorn and I spent an entire weekend turning the pages with a smile on my face." **
When Chelsea moved back to Pine Grove, she expected relaxing afternoons on the orchard, fresh-baked apple pie, and time with family and friends. And she got all that. But what she didn't expect…
…was murder.
This time the dead body turns up at Pine Grove's new railroad museum. The adorable museum, housed in an old train car, was eagerly anticipated by everyone in town. But the dead guy is the father of a star high-school athlete (and he's about to open a new coffee shop in town) so there are plenty of suspects.
Unfortunately, Chelsea is one of them.
Chelsea's aunt Miss May is ready to help solve the mystery, just like she always is. And their bottle-blonde bestie, Teeny, never backs down from an adventure. But the local chief of police is determined to lock Chelsea up for good this time, and the killer seems determined to strike again.
Will Chelsea and the ladies solve the mystery in time? Or will Chelsea end up in jail…or worse?
You'll love this comedic cozy mystery because it features loyal friends, and delicious food, and the main character is dating a handsome cop who would do anything to help keep her safe.
Read today.