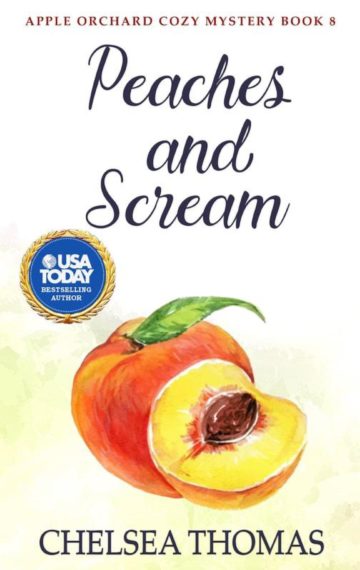 $5.99
Buy Now
Read A Sample
See The Reviews
See The Full Series
Available in:

Kindle, Kindle Unlimited, Print

Pages:

268

Published:

May 31, 2020
Life's a peach. Murder is the pit.

Peaches are back in season at the orchard and everyone's got that warm, fuzzy feeling.

Miss May throws a "Peach Party" to celebrate. The whole town turns up for the bash. They munch on Peach pie, they drink Peach Sangria. Everything is, well, peachy. Until…

…a dead body turns up in the bakeshop.

The shop is locked from the inside and there are no signs of a struggle. But it's clear to everyone that this was a murder. And Hunky Detective Wayne Flanagan seems to think Chelsea and Miss May might have been involved in the killing.

Chelsea thinks Wayne has a vendetta because he's jealous of her new boyfriend. But that's all the more reason to solve this mystery before too much time elapses. It's always possible for the cops to nab the wrong killer, and Chelsea needs better food than the sludge they serve in the Pine Grove jail.

One big problem… Chelsea and Miss May are the only people who have keys to the building. So they need to solve this murder before they get locked up, or lose the farm… or worse.

You'll love this story because it has a mystery that's tough to solve, plus a peach pie recipe that's been in the family for generations.

Grab it now.